Living in Wisconsin, we understand the importance of your home's fireplace, roof, and chimney. We're here to ensure all of these are prepared to shield you and your loved ones from the conditions outdoors. Armed with the latest techniques and the best materials, we fortify your roof, rid your chimney of dangerous byproducts, refresh your home, and more. Let's get to work. Offering Emergency Service 24/7.
We are an Authorized Real Fyre dealer.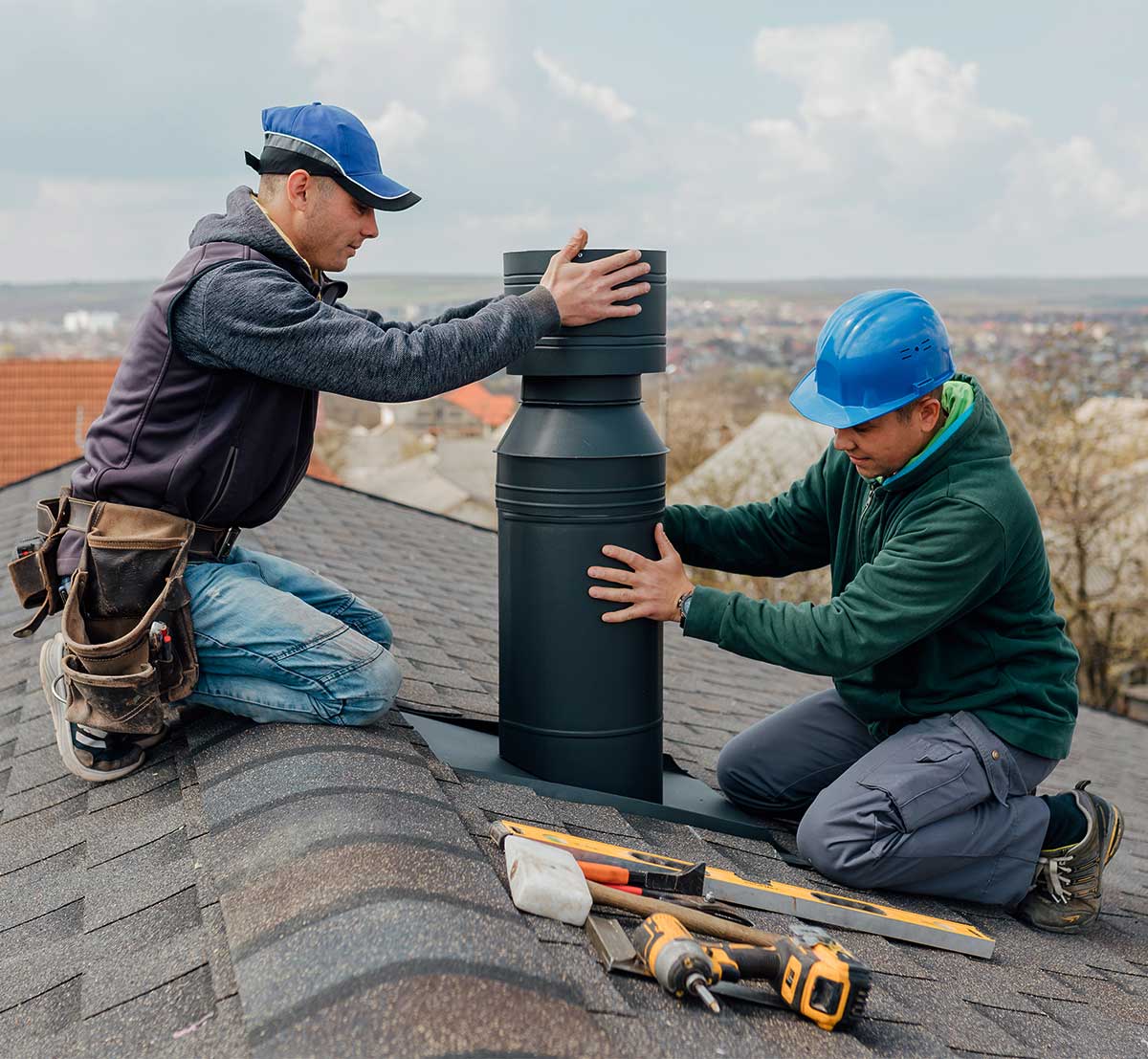 What Does A Chimney Sweep Do?
Our chimney sweeping service is unique in that we don't just do a sweep and run. We go up top to inspect the bricks, crown, flue tiles, flashing, mortar, caps, etc. Then we go down into the basement to inspect the foundation and appliance venting systems. As a part of our sweeping process, we remove the damper and get out any debris from behind the rain shelf—something that other companies usually overlook. After the flue has been thoroughly swept, it will be video scanned to view the condition of tiles and joints between tiles for safety. We can then email the photos directly to you. You will also receive a complete written report along with an estimate for any repairs that are needed.
Inspection & Pricing
Before we clean your chimney or even quote a price, we always do an inspection to see if cleaning is necessary. To avoid tracking soot and flue in your home during the process, we make sure to use plenty of drop cloths to protect the hearth and floor and additional runners for the carpet. If we determine that you don't need a cleaning, you will only be charged for the trip and inspection report. The cost of cleaning will depend on your type of chimney.
About Our Chimney Cleaning Process
When accessible, your inspection includes a camera scan of the flue. For masonry fireplaces, we typically remove and replace the damper so we can do a better job cleaning the smoke shelf. The smoke shelf is the pocket behind the damper and the smoke chamber, which is the funnel-shaped part of the chimney located directly above the damper. We use RO-VAC vacuum systems to control the dust and suck the soot. This machine minimizes any dust from escaping the work area and permeating through the house. Even the smallest of soot or ash particles will be contained rather than blowing right through the filter, as it will with most shop vacuums.
What Is Potentially Different About Wood Stove Inserts?
If you have a wood insert, which is a cast-iron stove inside a masonry chimney, then it should be lined with a stainless steel liner. Inserts are designed to vent into a specifically-sized pipe. If you do not have a liner installed, we will need to pull out the insert—which can weigh up to 400 pounds—and haul it away. This exposes you to a high probability of a flue fire and thus is NOT recommended. We will then do a complete masonry sweep and scan. Because unlined inserts are a code violation, we recommend that you allow us to remove and dispose of the unit. If your wood insert is lined, cleaning costs will be the same as a regular masonry chimney.
My Chimney Looks Fine, Right? Maybe Not.
Sometimes a chimney problem can't be diagnosed with just a visual inspection. In this case, our technicians will conduct an internal video inspection in which a small camera is inserted into the chimney to record all surfaces. This will help the technician diagnose your problem correctly and provide you with the best options for repair.
Chimney internal video inspections are necessary to determine the overall integrity of a chimney, which is valuable if you are considering buying a home and want a visual record of the chimney's interior condition.
Chimneys Are Maintenance Free, Right? Wrong.
Your chimney and the flue that lines it may add architectural interest to your home, but their real function is to carry dangerous gases and smoke safely out of your home. A chimney helps your household air stay breathable … just as your windows and your vents do. Unlike those other exhaust points in your home, however, fireplace and wood stove chimneys need a special kind of care.
Nobody Wants A Chimney Fire
A chimney fire in action can be impressive. It has been described variously as creating:
loud cracking and popping noise
a lot of dense smoke
an intense temperature change
With proper chimney system care, chimney fires are entirely preventable.
Maintenance Is A Must
Clean chimneys don't catch fire. Make sure a CSIA Certified Chimney Sweep like Quality Fireplace inspects your solid fuel venting system annually and cleans and repairs it whenever needed. We have a variety of maintenance recommendations depending on how you use your fireplace or stove.
Repair Or Replace A Damaged Chimney Crown
The chimney crown (also referred to as the chimney wash) is the top element of a masonry chimney. It covers and seals the top of the chimney from the flue liner(s) to the chimney edge. Most masonry chimneys are built with an inadequate crown constructed from common mortar mix, the same mixture used to lay the bricks of the chimney. This mortar is not designed for and will not withstand years of weather abuse without cracking, chipping, or deteriorating—all of which allows air and water to penetrate the chimney. In fact, most sand and mortar crowns crack almost immediately after installation because of shrinkage. A proper chimney crown should be constructed of a portland cement-based mixture and cast or formed so it provides an overhand, or drip edge, projecting beyond all sides of the chimney by a minimum of two inches. The flue liner tile(s) should project above the crown a minimum of two inches. The crown should provide a downward slope that will direct the water from the flue to the edge of the crown. The overhanging drip edge, by directing the run-off from the crown away from the chimney, helps prevent erosion of the brick and mortar in the chimney's vertical surfaces.
Repair Deteriorated Mortar Joints
Deteriorated mortar joints are entry spots for water. Proper mortar joints have no gaps or missing mortar and are struck, or shaped, in a way that directs water out of the joint. When mortar deteriorates from exposure to weather, it becomes much more absorbent. A common repair for improper or deteriorated mortar joints is called re-jointing, or tuck pointing. In this process, the existing mortar joint is cut out to an appropriate depth and the joint is repacked with new mortar compound. The joint then is struck to form a concave surface that will direct water out of the joint. A good re-jointing job, using proper materials, will give the chimney a much longer lifespan, and often will enhance its appearance.
Repair Or Replace Flashing
Flashing is the seal between the roofing material and the chimney. Flashing prevents rainwater or snow melt from running down the chimney into living spaces where it can stain or damage the ceiling, walls, wall paneling, or cause rot in rafters, joists, or other structural elements. In many cases, the flashing is a single L-shaped sheet of metal that is attached to the side of the chimney and the roof. The most effective flashing is made up of two elements, the flashing and the counter-flashing. The flashing or base flashing—an L-shaped element extending up the chimney side and out onto the roof—is attached to the roof and sealed. The counter flashing, which overlaps the base flashing, is embedded and sealed in the chimney's masonry joints. This two-element flashing allows both the roof and the chimney to expand or contract at their own rates without breaking the waterproof seal in either area.  If the chimney is located on the low side of the roof, where the flow of run-off is directed against the chimney, the installation of a cricket will afford additional protection against water leaking into the home. A cricket is a water deflector that serves to direct rainwater away from the chimney. Crickets are recommended on chimneys more than 30 inches wide and they are especially important on steep roofs.
Chimney Health
When is the last time you thought about the health of your chimney and whether or not it needs repairs? Although chimneys may seem sturdy, they need care and maintenance just like any other part of your home. In Southeastern Wisconsin, it's a good idea to give your chimney an annual check.  A great time for this is summer since you likely won't use your fireplace until fall. It is important to know what to look out for in a fireplace and chimney, so here are some signs that your chimney may need a rebuild:
Shaling: If water has seeped into the gap between your chimney and flue lining, you may begin to see shaling flue tiles fall into your fireplace.
Whitened bricks: Called efflorescence, water seeping into the bricks pulls the natural salts and minerals to the surface. The water evaporates, leaving the minerals behind and weakening the integrity of the entire structure.
Damaged crown:

The crown is possibly the most important part of your chimney because it keeps water and elements out.

If a damaged crown has been ignored, a chimney rebuild is a must.
The best chimney rebuild, of course, is the one you can avoid. So make sure you take the necessary measures to check the integrity of your fireplace and chimney on an annual basis to avoid these dangers.
Home Inspections
Unless your home inspector doubles as a certified CSIA Certified Chimney Sweep, chances are they don't have the training, experience, or equipment to accurately detect issues with your chimney. Home inspectors typically can do the equivalent of a level 1 chimney inspection, which means that they only look at the chimney components visible to the naked eye. Unfortunately, that means a lot of hidden issues can easily be missed. We know chimney issues can be a big deal, often costing homeowners thousands of dollars. That's why we recommend all potential home buyers hire a CSIA Certified Chimney Sweep like Quality Fireplace and Chimney to provide a thorough level 2 inspection with a high definition video scanner.
Roofing
A solid roof is more than just the cherry on top of your home—it's an essential shield against harsh weather conditions and a vital insulation system. Whether you need a total roof replacement or you have a few trouble spots that need repair, our contractors can help!
We make it a priority to provide only the best materials. We use the industry's top asphalt shingles from CertainTeed, which update and add value to your home with a variety of styles and colors. We also use high-quality synthetic underlayment and Ice and Water Shield to keep the elements out of your home. To make sure you get the best value from a long-lasting and durable roof, we insist on honoring all manufacturers' warranties.
Our Satisfaction Guarantee ensures that we don't consider a job done until you're completely pleased with the result. After completion, rest assured knowing that our after-sales support is always ready to assist in case any issues arise or if you need further help understanding your new roof's maintenance needs.
Roof Replacement
Living in Waukesha, WI, we're all too familiar with the extreme weather conditions that wreak havoc on our homes, especially our roofs. Unfortunately, there comes a point when roof repair isn't enough, and replacement becomes imperative.
We believe in top-quality materials and craftsmanship because they are the only things standing between your family and the elements. Whether you prefer traditional asphalt shingles or want to explore environmentally-friendly options like metal roofing or solar tiles, we've got you covered.
Remember, your roof does more than just shield you from the elements; it's an investment in your home's future comfort and security. And so we say: Choose wisely, choose quality, choose Quality Fireplace, Roof, & Chimney Services!
One-Day Roof Replacement
We don't just want results—we want them fast. While others may take days or even weeks to perform a complete roof replacement, our team of experts has the knowledge and expertise to deliver results within 24 hours.
You might think speedy service means cutting corners, but we've honed a process in which speed and quality don't just coexist—they harmonize beautifully. First, we select only durable materials to withstand Wisconsin weather and the passage of time. Then, our team of skilled laborers works efficiently while ensuring every nail and shingle is perfectly positioned.
Our short timeframe means minimal disruption of your daily routines. Moreover, our quicker projects often have positive cost implications, as they reduce labor hours and minimize the chance of unforeseen complications down the line.
Flat Roof Replacement
In Wisconsin, we've seen firsthand the damage that harsh weather can inflict on flat roofs. We help you identify early damage indicators—water stains, bubbles, blisters, and cracks—before they escalate into costly repairs. When you decide to get a replacement, we use only the best methods and materials to provide top-notch services and long-lasting results.
We work with you closely to find a solution that suits your financial capabilities without compromising on quality. We also provide comprehensive warranties on all our projects so any future glitches don't come unbudgeted for you.
Shingle Roof Replacement
About three-quarters of America's homes have shingle roofs—this classic style is not only pretty but protective! Whether you prefer asphalt shingles for their affordability and ease of installation or slate shingles due to their durability and aesthetic appeal, we've got you covered.
Boasting years of hands-on experience, our skilled team's expertise is truly second to none in the home improvement industry. Our project portfolio includes countless shingle roof replacements in Waukesha, speaking volumes about our ability to deliver top-notch results consistently.
Cedar Shake Roof Replacement
There's something timelessly beautiful about cedar shake roofs; their rustic charm and natural durability have made them a preferred choice for many homeowners in Wisconsin. But, despite their durability, these roofs do require replacement with age. If you see loose shingles on the ground, it's time to call us to bring your covering back to life.
Roofing materials today are more durable, energy-efficient, and environmentally friendly than ever before. That means your home will be safer and greener in addition to stronger, more valuable, and better-looking! When you work with us, you don't just get a service; you invest in quality craftsmanship that blends tradition with innovation for a durable and stunning result.
Synthetic Shake Roof Replacement
Synthetic shake roofing isn't just a pretty face—it's a smart investment for any homeowner who values longevity and sustainability. This option offers superb insulation and energy efficiency, and it stands up to harsh winds, heavy snowfall, and scorching summer sun. Synthetic shakes also reduce your carbon footprint by using recycled materials.
If you see signs like curling or missing shingles, moss growth, or leaks in your attic after storms, call us to explore this innovative alternative.
Multi-Family Roof Replacement
We understand how critical a well-maintained roof is for the safety, appearance, and value of your multi-family property. That's why we offer comprehensive solutions for all your roofing needs—from preventive maintenance to full-scale replacements.
We don't believe in one-size-fits-all solutions; we take the time to understand each client's unique needs before devising a personalized plan that ensures optimal results. Our mission is to provide you with peace of mind, knowing that your investment is well-protected.
Commercial Roof Replacement
We believe a top-tier roof doesn't just protect your facility's interior from the elements—it represents a significant investment in your company's future. With our experienced team and innovative techniques, we are committed to helping businesses safeguard their assets and maintain a professional image.
Knowing when to replace your commercial roof can be tricky; it takes an expert eye like ours to identify the cracks, leaks, punctures, and other issues that require more than just repair. Whether you're considering flat or low-slope roofing systems, our team has the expertise to guide you toward materials that offer longevity, resilience, energy efficiency, and sustainability.
Flat Roof Coating
At Quality Fireplace, Roof, & Chimney Services, we see every building as a living entity that demands care and protection just like any other. The right roof coating isn't simply a protective layer; it's the clothing that shields your building. As experts in construction and roofing techniques, we only use materials that withstand harsh weather conditions and provide long-term performance.
Our knowledge extends beyond simple application; we're proficient in cost analysis and forward-thinking strategies, ensuring the efficient use of resources and reduced maintenance costs down the road.
Roof Flashing
Roof flashing is one of the many critical components in all slate, shingle, metal, and flat roof installations. Serving as a waterproof barrier, flashing is a band of sheet metal that surrounds dormers, valleys, and the spot where your chimney and roof connect. Without the necessary flashing, water can enter your home and potentially cause thousands of dollars in drywall warping, ceiling stains, insulation saturation, mold growth, and other interior damage.
If it fails, the flashing can be one of the most problematic areas on a roof. In fact, when a customer tells us that their chimney is leaking, the flashing is one of the very first things we check! Rusty nail holes, loose caulking, inferior materials, and years of exposure to Wisconsin weather can allow water to leak through your flashing.
Storm & Hail Damage Repair
When severe weather strikes, it can leave a trail of devastation in its wake. It can be easy to get overwhelmed in this situation, but we're here to help you navigate the aftermath efficiently and effectively. As experts in storm damage repair, we dive deep into weather pattern analysis to anticipate potential vulnerabilities in your property and formulate effective strategies for restoration.
Our comprehensive approach isn't just about fixing what you can see on the surface but delving deeper to ensure your home's structural integrity remains uncompromised after a storm. We're also highly knowledgeable in dealing with insurance companies; we'll negotiate on your behalf to ensure you get the best possible coverage for your repair costs. Trust us to turn this challenging situation into an opportunity for home improvement.
Inspections
If you notice a leak during inclement weather, it is time to schedule a professional roof and chimney inspection! When your technician arrives, they inspect your roof and chimney for any signs of damage:
Fading or balding (loss of granules) on shingles
Missing shingles
Broken or cracked bricks/stone
Loose mortar joints
Cracks or gaps around the chimney foundation
Deteriorating flashing
Rusted or damaged caps and chase covers
Exterior Remodeling
Did you know that around 70% of homeowners underestimate their home's curb appeal? We're here to change that. With our focus on siding, windows, and doors, we'll make sure your house isn't just another statistic.
We're not just about aesthetics; we prioritize benefits such as energy efficiency, value increase, and protection from the area's unique weather patterns. As seasoned veterans, we're also masters of Wisconsin building codes. Let's innovate together and make your home the envy of the neighborhood.
Structural Framing
Ironically, people don't often consider what's behind our walls, but that's where the backbone of any structure lies. Having mastered the art of structural framing, we employ innovative methods to enhance durability, stability, and sustainability. Our technical proficiency, detailed approach, and professional acumen ensure every structure withstands the harshest conditions and the test of time.
General Carpentry
At Quality Fireplace, Roof, & Chimney Services, our carpentry extends beyond mere construction—we sculpt dreams into reality. From bespoke outdoor furniture to decks to fences, we deliver works of art that are not just sturdy but aesthetically pleasing.
Trust us to deliver detail-oriented, clear, and concise work that transforms your property while maintaining a safe construction environment. Our creative problem-solving and cutting-edge carpentry innovations ensure every job exceeds expectations.
Authorized Real Fyre Dealer
Looking to give your fireplace an upgrade? Let Quality Fireplace, Roof, & Chimney Services give you the meticulous look you've been searching for with our quality team and gas fire logs that look authentic without a fire burning. Contact us today to learn more about this life-like detailing that can transform your space, but also deliver top-notch performance.
Clean chimneys don't catch fire. Make sure a Certified Chimney Sweep like Quality Fireplace, Roof, & Chimney Services inspects your solid fuel venting system annually and cleans and repairs it whenever needed. We have a variety of maintenance recommendations depending on how you use your fireplace or stove.
At Quality Fireplace, Roof, & Chimney Services, our service is unique in that we don't just sweep and run. Our thorough inspections and maintenance visits help customers keep their homes safe and structurally sound throughout the various stages of home ownership—from purchase to repairs.